"Let's get this rusty tool to shut up!" - regarding Swbo Bolg
Chikin Bob is one of the Bob Duo, an agent of the
UNWD
, and
Elephant Bob
's partner in crime fighting.
Character
Edit
Appearance
Edit
He is a standard eraser with two arms and a face. His size varies due to his powers. He is creamy white in colour.
Personality
Edit
TBA
Abilities
Edit
He is magical, and his powers include changing his size.
His past prior to the UNWD is unknown, but he did serve in the army with Elephant Bob. 'Bob' is not a name, but rather a title, and the most prestigious title of the force (higher than Steve, Dave, Joe or Mike).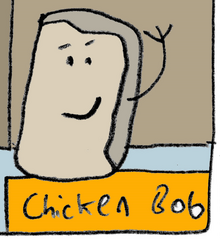 TBA